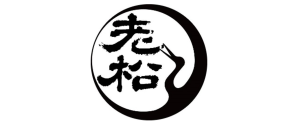 Oimatsu Shuzo – Oita, Japan
The shiso area is in a basin surrounded by mountains that reap a plentiful crop of rice suitable for sake brewing. A chief sake brewer at Oimatsu uses full-bodied, delicious underground water for the long-term, low-temperature, fermentation process. This brewery still practices traditional methods of production, that is, without mass production machinery. Their extensive knowledge in sake making is trusted and loved by many locals.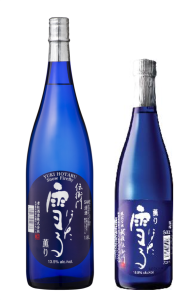 Yukihotaru Sake | 1800ml, 720ml
Great everyday sake! Fruity and floral on the nose, it is drier on the plate. A smooth silky mouthfeel with a crisp and refreshing finish. Serve chilled, warm, or hot.
DaiGinjo Sansui Sake | 1800ml
This top-of-the-line DaiGinjo is made from Yamadanishiki sake rice milled to 40% of grain size, well above the qualifying 50% milling rate, over-delivering the quality and complexity of DaiGinjo class sake. Serve at room temperature or slightly chilled (8-12 C).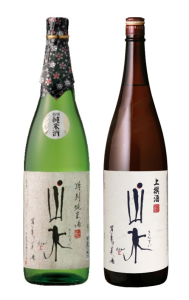 Sansui Sake – Tokubetsu Junmai | 1800ml
Sansui Sake – Josen | 1800ml
Tokubetsu Junmai Sake made with 60% milled rice is offered as an "Everyday Table Sake" that is refreshing and clean like mountain water. Gently expanding rich and creamy mouthfeel is followed by a dry and long satisfying finish. Serve chilled or warm.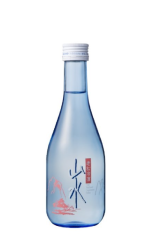 Sansui Sake – Nama Chozo | 300ml
Approachable and versatile with lively aromas of pear and melon. Smooth mouthfeel with a satisfying clean finish. The bottle can be directly dipped in hot water for those wishing to try "warm sake".
Tenkunotsuki – Umeshu | 1800ml, 720ml
This award-winning Japanese Umeshu (plum wine) is super aromatic and wonderfully refreshing. Versatile enough to go with meals as aperitif or digestif. Great with desserts, with soda water, or on the rocks. The fresh plum flavor adds brightness to any cocktails.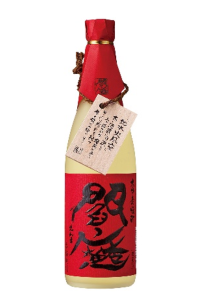 Enma (Taru) Barrel Aged Shochu | 720ml
This pale straw-green spirit has intriguing aromas of sweet almond and subtle sake notes. On the palate, it is full-bodied, well-balanced, and soft-textured with flavors of spicy pepper and dark chocolate. The long complex finish makes it an ideal drink on the rocks, in a premium martini, or served like a Scotch with a splash of water.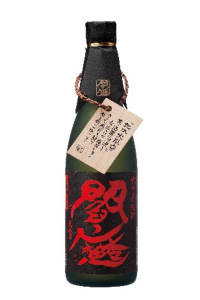 Enma Black Label Shochu | 720ml
Using black koji and 100% barley, gone through Oimatsu's original yeast-making two separate times, this shochu comes out with a wide range of umami flavors. Surprisingly, it has both crispiness and sweetness in one with a sharp finish.
Enma Green Label Shochu | 720ml
A strong barley flavor is produced by atmospheric distillation. It is a very rich and complex flavor, but when warmed up, it becomes even more fragrant and slightly sweet.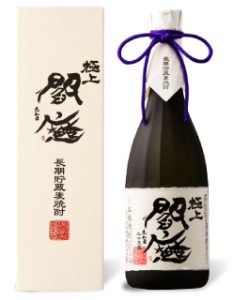 Enma Premium Shochu | 720ml
This long-aged barley shochu is a blend of fragrant unprocessed sake that has been aged for around 5 years in a natural environment and unprocessed sake that has been aged in barrels for over 25 years. This is a masterpiece with a soft and full-bodied flavor, an elegant barrel flavor, and a pleasant lingering finish.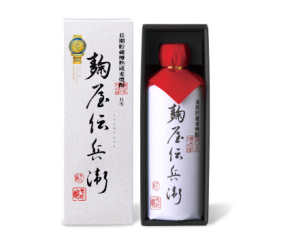 Kojiya Denbei Shochu | 720ml
Kojiya Denbei is a shochu that has a rich taste, special aroma, and mellowness that completely defies the concept of barley shochu. If you stir on the rock shochu several times, the ice will gradually melt and you can enjoy the most blissful moments. The alcohol content is 41%.
Beni Imo Premium Shochu | 720ml
The Beni Imo (red sweet potato) Shochu is a rare find and is drawing keen interest from discerning shochu lovers. It has an intense sweet floral bouquet, with rich flavors of roasted chestnut and mushroom with a long-lasting impressive finish. Drink it straight, on the rocks or serve it with a splash of mineral or soda water.